To our customers, First all we just want to say thank you for your patience and support during this time. We hope everyone is staying safe and healthy! Hoping this mess is all over soon so we can get back to business as usual. If you have a party scheduled with us please email us at skateworldofkettering@yahoo.com or message us on Facebook. Unfortunately we are not in the office to answer phones during our normal times due to the temporary shut down of our business. We will try our best to get in touch with all of our parties before they occur. We just ask that everyone be patient with us during this time. We appreciate your business!
Attention Skaters!!
We will be closing early on April 5 2020 for a Private event at 5:00pm!! Thank you for your continued business and understanding.
Skateworld of Kettering's Business Office hours are 9

:30 am to 5:00 pm

Monday thru  

Friday

 for booking events, paying deposits & to purchase skates. Please see below for our current schedule: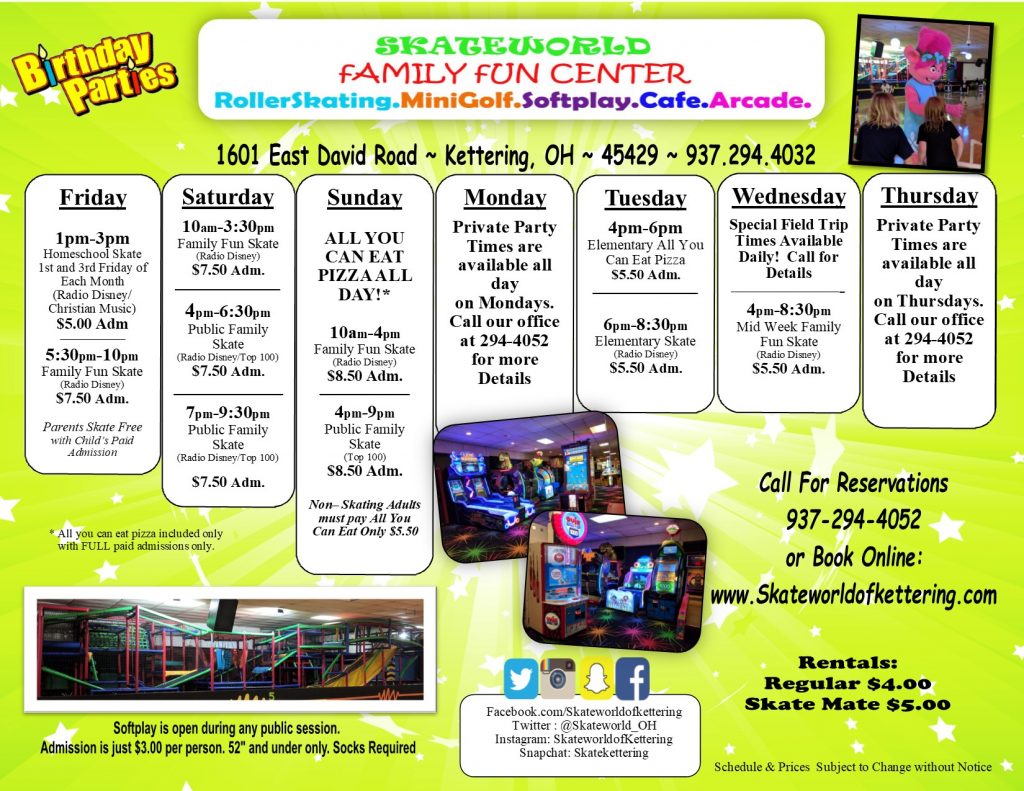 Skate Rental:
$4.00 Regular Skates
$5.00 Speed Skates
Skate Mate Trainer: $5.00 Per Session
No Passes or Coupons Valid on Home School or  Sunday unless stated on coupon/discount. Also No Passes, Groupons, or Coupons during Special Events (late nights or New Years Eve)
Groupon packs of 2 or 4 are not considered a Birthday Package.